Wednesday Trivia and it's NOT RAINING!
Wednesday nights are like a warm, fuzzy, big and cozy blanket straight out of a dryer on a cold rainy day… if someone is swearing the background and your pounding beers while placing bets… You just never know what will come your way, but you know you'll enjoy it! See the recap here.
Valley Grill in Middletown, Md 
Where the hell did the Sun go? We have a perfectly good patio here at Valley Grill and have been unable to use it. Damn you climate change! ANywho, here are the results, and be sure to be here next week for your invites.
Southpaw Fish in 1st
Team 2nd Place in 2nd (Ironic, isn't it?)
Fat Kids are Hard to Kidnap in 3rd
First category for next week is Music Theory ~ Ronnie
Wednesday nights at The Tavern are so much fun! The teams are competitive and have fun with each other! They even applaud for a team that FINALLY got to say their name the way it was meant to be said! Finishing in 3rd was Olney the Lonely, 2nd place went to Helplessly Hoping and for the first time since using this name I get to say, in 1st place was In First Place!! They picked "Pokemon: the original 151" for next weeks winners choice so study up, and come join the fun we have every Wednesday at The Tavern!!   ~  Jon J
It's been far too long since we talked about bad alcohol decisions, prostitution, and verbally abused others who were more fortunate… thankfully it's Wednesday again and we can all get our fix! We had a good night full of verbal sparring, thankfully it didn't turn physical… this time. I am seriously wondering if the shoe theory is an actual thing or just a Belles rule. I was also impressed with everyone's ability to be PG when we had an underage in the vicinity for a short amount of time.
At the end of our game tonight we had a good question make everyone think (Or is it ponder? Contemplate?) and the top 3 was decided. It was Pete Rose bet on Us who channeled the baby luck to slid on up in to 3rd from 6th! 2nd went to Uranus (On a dark night you can see….) and 1st went to Tokyo Sex Whale! They took pity on me and went with the 1970's Orioles for next week.
Double digit team count
tonight
at Bennigan's! We were joined by Dusty Baker's School of Management who only occasionally get the chance to come play so that was fun. They're usually pretty competitive, we'd see if they could be as terrifying as they've looked in the past
tonight
.
Dusty Baker looked good through the first half, though so did a few other teams. We had a 3-way tie going into the 2nd half
tonight
between Knock Knock, Dusty Baker, and Strangers have the Best Candy. This tie would be broken in round 3 because of a quite difficult Foreign Film question. About half the teams missed picking up points on that question while Dusty Baker got the wager AND a 2 point bonus so they snuck into the lead.
Going into the final, Dusty Baker led by 11 points, which we all know is just two points away from having a pre-final LOCK. Knock Knock was back 11 and took full advantage of this opportunity. With a correct response, Knock Knock jumped into the lead and Dusty Baker slipped up, dropping back into 2nd place! What a finish! Knock Knock takes it down! Great game all! Back in a week with playoff invites! See ya then.
1st Place:     Knock Knock
2nd Place:    Dusty Baker School of Management
3rd Place:     Just The Tip
Next week:     The Office
We had a packed house and a very close game this week! Teams seemed to struggle in all the same spots, leaving very little wiggle room at the top of the leaderboard. It's closing in on last call for season points, as teams jockey for those playoff seats.
Teams answered questions about the Scooby Gang, musical JT's, and even a tough Winner's Choice question about Former African Leaders! Quite a diverse set, and quite a finish!
Third Place: LOWL
Second Place: Up For Anything
First Place: The MoopsThe Moops swooped in for another win, selecting, "WWE Attitude Era" as next week's first category! A great time for wrestling, and America…
Tonight we opened with a question about 90's Nicktoons, which ended up being about the TV show which featured a conjoined animal hybrid, which was the show 'CatDog'.  I guess it was a pretty popular show as most teams remembered it. We also had a question about chlorophyll, which was met with plenty of people shouting 'more like Bore-ophyll!!', as should be expected.
The first round had a question about the Nobel prize that forced me to read a bunch of weird names several times, which was amusing. The audio question for today asked teams to identify musical acts with the initials JT, such as James Taylor, Jethro Tull, and Justin Timberlake.  We even had a Scooby Doo question come up tonight, this time asking teams for the name of the red head, Daphne Blake.
Halftime (I wrote this one!) asked teams to identify TV shows based on images of the characters 'suited up', as well as matching rulers to the empires they founded. Teams did pretty well on the TV shows, but the empires proved to be more difficult.  Round three opened with a question about Nevada, which was a pretty random category to start with, and asked about a certain practice that is only prohibited in two cities there. For some reason I had a decent number of teams guess prostitution, which I found hilarious; the answer we were actually looking for was gambling.
We also asked about the tennis star who was famous for his outbursts on the court, as well as being extremely good at the sport. A good number of teams knew we were talking about John McEnroe, whose tantrums were just legendary.  Ending the third round was a question about foreign films, where we asked for a 1997 foreign film which won seven Oscars, including best actor, which made the winner the only man to win for a foreign language film. A lot of teams were close on the name and movie, with it being 'Life is Beautiful' starring Roberto Benigni.
Tonight we learned that even though Pluto is now a 'dwarf planet', it actually has FIVE moons: Charon, Hydra, Kerberos, Styx, and Nix.  I think my favorite question was the palindrome song title AND artist question, as it inspired answers such as 'Tacocat' and 'Racecar Tacocat Racecar', with the answer being 'SOS' by ABBA. Tonight's final question was in the category of word origins and meanings, and asked for the word which is derived from the Latin word for 'weight' and means to consider carefully or weigh in one's mind.
About half the teams got the answer of 'ponder' and it changed things a little bit. Third place went to BTF, and second went to Bored of Ed. Taking the win, congrats goes to We've Embraced Our Mediocrity on the repeat! Next week we start with a question about the TV show Archer, so study up! I'll see you all then!
Until next time,
-Chad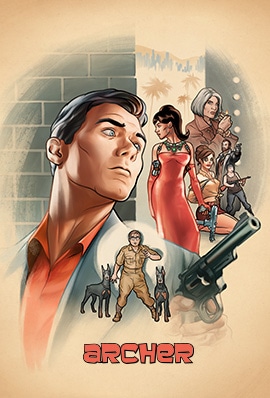 For 2 hours or so teams "pondered" some trivia at Barefoot Bernies bar in Hagerstown, MD for trivia night! And that's how the night ended as well…with PONDER! A tough final for sure, but a handful decoded it after some grappling and earned some loot for their efforts.
It was a fun game Wednesday evening. Clifford the Big Red Dog made a cameo! So did my own cartoon girl crush – Daphne Blake…
In the end though, it was ABBA that stole the show! And of course getting teams dancing to what else: Dancing Queen!
Congrats to our TOP 3 teams on a game well played:
Good times everyone. Thank you for coming out to Bernies and playing a bit. Next Wednesday invites go out for playoffs and Pub Crawl 2016. Hope to see you then. Our  first category next Wednesday will be: the first Michael Keaton BATMAN film. See you then…luv ya! DG 🙂
OFF FOR TWO WEEKS….  Kayla will return on June 1st!
Hard Times Cafe in Arlington, Va
Another week of trivia, another stellar performance by Kitten Mittens, who racked up their seventh win in a row (if you don't count the one week where they didn't show up), and it was the second time that they have topped 180 points!  They were just a few points off of a perfect game…  Second place went to Rocket Surgeons with Matt Frost Gave Us the Answers in third.  next week, we'll be back with a question Rock Stars that SHOULD be dead.  ~ Matt