Tuesday Was a Night of Dog Friendly Trivia!
As fall rolls in, so too does Season XIV of Pour House Trivia.  Our busy Tuesday night featured some wild twists and turns (and a little hip hop music).  Fresh off of the first Presidential Debate, we included three somewhat meaningless questions about our two candidates.  We also learned that in the film industry, the word 'performer' has a rather loose definition.  With 12 venues on the docket, your team has to be pretty sharp to end up on the "Best Of" List, but let's see who made it…
TUESDAY'S STATS AND FACTS (81 teams across 12 venues):
–> Highest Overall Score: Uncle Jack (Quincy's South) with 168
–> Highest Score after Round 4: Uncle Jack (Quincy's South) with 159
–> Highest First Half Score: Notch 8 (Champion Billiards) with 88
–> Perfect 21 (correct on all wagers and final): Idiocracy (FireFlies), What Else Could It Be!? (O's Nest)
–> The halftime page played to an average score of 15.6 tonight, with only ONE TEAM (Notch 8 from Champion Billiards) scoring a perfect 20.
–> Likewise, only ONE TEAM (The Big Fact Hunt from Quincy's South) was able to score six points on the 6-4-2 question by recognizing that South Africa is the most populous country located completely south of the Equator.
** FUN FACT** Based on its current growth rate, Tanzania will overtake South Africa by the end of 2017.
TONIGHT'S FINAL QUESTION (31.0% success rate):
–> The plot of this 2008 film spans a time frame of 14 years.  As a result, 22 different performers were used to portray one of the title characters.  What is this film? (you'll find the answer later in this blog)
---
Had a good crowd tonight here at Whole Foods in Ashburn, with a new team showing what they can do by finishing the first half in first place!  In the end however, only a few teams were able to come up with the correct response on the final and Kelly's Heroes came out on top!  Here are your final standings:
First Place:  Kelly's Heroes
Second Place:  Taco Tuesday
Third Place:  Mini Van Mafia
Next week's first category:  Food Science
See you then!  🙂
~ Zach
---
A very high energy night of trivia at Cap City Brewing!  The crowd was still amped after last night's presidential debate (or as I call it, "Sniffly McSnifferson vs. Shimmying Grandma"), and the topical team names showed it: "Harambe's Hofstra Hangover", "Trumped Up Trickle Down", and "It's Trump! It's Trump! It's Trump! It's in His Head".   Hey yeah, 'member The Presidents of the USA?  I 'member!
The questions were even sharper than usual, especially a "Wet Bodies" category on the Indian Ocean and some tricky "ZZ" words in the halftime sheet.  And that Final!  The final standings really came down to which teams got the final correct, our second and third-place teams jumped up from the middle of the pack, whereas the night's champions held onto a solid lead.  Your leaderboard:
First Place:  Capital Hillbillies (playing as "It's Trump!  It's Trump!  It's Trump!   It's in His Head")
Second Place:  Stop the Bus and Let My Brother Jack Off
Third Place:  Hillary Did Harambe (playing as "Harambe's Hofstra Hangover")
Next week's first category:  Chicago Cubs Postseason Appearances!  (I feel like that narrows it down pretty well)
~ Austin
---
They came, they fought bravely, but only three would rise above the masses to seize the day.  We had a full house of teams tonight, and they were all hungry!  Well.. thirsty too, but that's another thing entirely.
I am going to keep this short and sweet, much like your favorite Trivia hostess!  Well, not so sweet when older men are not acting like gentlemen and I have to stop my game.  Yet again, I digress.  It was a damn good final tonight and it proved to be rather pivotal for those top three spots!  Last Call made it back in to the Top Three, it had been awhile for that particular announcement.  Here are the final results:
First Place:  Notch 8
Second Place:  Comfortably Dum
Third Place:  Last Call
Next week's first category:  1970's Baltimore Orioles
~ Sam
---
Fine night for trivia here at Cugini's in Poolesville!  We had a couple of stump questions tonight, one of which was the final.  No team really dominated the game, and the scores really shuffled around after three of the top four teams missed the final question.  Here are the results:
First Place:  Never Mind
Second Place:  Lightfoot
Third Place:  Drunk and Disorderly
Next week's first category: "The Hunger Games" book series
~ Ronnie
---
It's always fun when a trivia question prompts me to add a song to my playlist that I'd previously forgotten about. That happened tonight when we had a question where the answer was Bulletproof and one of the clues was about the 2009 song 'Bulletproof' by La Roux.  We also had a really cool final question about Films of the 2000's, which asked about a movie that used 22 different performers for one of the title characters, since the plot of the movie took place over 14 years.  Only one team got the answer of 'Marley and Me', which gave them a pretty thrilling comeback win too.
First Place:  What Else Could It Be!?
Second Place:  His and Her Peas
Third Place: Vandalay Industries
Next week's first category:  Things Meatloaf WOULD Do For Love
Until next time,
~ Chad
---
Week 3 of Season XIV saw our veteran teams squaring off over a challenging set of trivia questions.  It was a close game, with some strategic wagering on the final question needed to take home the win.  Here are the final results:
First Place:  Poovey Farms
Second Place:  Book Club Babes
Third Place:  Dewey, Cheatum, and Howe
Next week's first category:  Triple 50/50 ("The West Wing" or NewsRadio"?)
See you next week!
~ Nick
---
Tonight's game of Pour House Trivia was a bit light at Senor Tequilas. So much so that I think we'll skip some of the pleasantries.  When you've got two house teams going head-to-head like tonight, the name of the game is needle them each a little bit as they battle back and forth.  Partly because it brings out the competitive spirit, but mostly because it's fun to be wild when we have the bar to ourselves for a change!  Still can't believe you guys couldn't pull Bullproof; that La Roux song was everywhere for a while!
Great game everyone!  Next week, we'll kick things off with a question on the food of Ocean City!   I could really go for some Thrashers fries and Dumsers Ice Cream right now…study up and we'll see you next time!
First Place:  The Fan Club
Second Place:  Ax's Doghouse (so close, yet so far)
Third Place:  Norm!  (I refrained from doing the Cheers thing; I'll save it for if he comes back next week 😉
In second place tonight, Axl's Doghouse! So close, and yet so far…
Next week's first category:  Food of Ocean City, MD
Until then,
~ Ian
---
Seven teams overcame their presidential debate HANGOVERS to join us tonight at Fireflies for some Tuesday night trivia!  Almost half our teams got off to a slow start, missing the first question about the classic movie "Back to School" – looks like we need a 1980s movie night!  All teams proved their love of alcohol by correctly answering questions about sake and the movie "The Hangover" in Round 2, but faltered once a question about horse racing came into the mix.  Idiocracy took the lead early and held it all the way through, while No Tears for Beers worked hard to earn their second place spot.  Only two teams were able to answer the tail waggingly good and tricky final question.  Winners were as follows:
First Place:  Idiocracy
Second Place:  No Tears for Beers
Third Place:  Make Trivia Great Again
Next week's first category:  Physics
~ Kate
---
Once again, our five consistent teams fought to the finish to make last night an amazing night!  Beach Bums, Romeo's Revenge and Parrotheads were able to answer the final question correctly, making for an exciting finish. Romeo's Revenge, 10 points below the Quizknows for the first place lead, hopped all the way up to 1st place! Parrotheads went from 2nd to last to tied in 2nd place against the Quizknows!  The Parrotheads were able to prevail though, receiving the 2nd place prize.  Here's the final standings:
Fist Place:  Romeo's Revenge
Second Place:  Parrotheads
Third Place: Quizknows
Next week's first category:  Alaska!  Study up about that cold climate!
~ Brittany
---
Well it started out close, but after the puzzle page, one team had pretty much run away with the win at Zepheira Sports Bar on Tuesday night.  Only one team had a chance to possibly pull out a win, but they decided to go for broke on the 6-4-2 and that proved to be their downfall.  Here's how the final standings played out:
First Place:  The Avengers
Second Place:  Sanford and Son
Third Place:  I'm Just Making This Up
First category next week:  "The West Wing"
~ Jon J
---
Pour House Trivia is more fun than a barrel of Monkey La Las! One of the things I like about LA La trivia night is that I get to workshop some of new pick-up lines and tasteless jokes. There's a whole lotta love up in there on Tuesday nights – and I thank all of you for that warmth 🙂
And what a close trivia match we had all night long hey? I think at half-time we had the entire field of teams within a question of each other! The second half brought the trivia heat: Wang-Chung, Eat Pray, Love and Harris Tetter certainly made us all dig deep!
That Marley & Me Final! Wow what a finish! We had a little shifty McShifterson happen. The Top 3 slots looked like this:
Great game everyone! And thanks for coming out tonight – like my appendix! Rock 🙂
Next week its: Triple 50-50: Nirvana or Pearl Jam (NON-AUDIO)
See you then
DG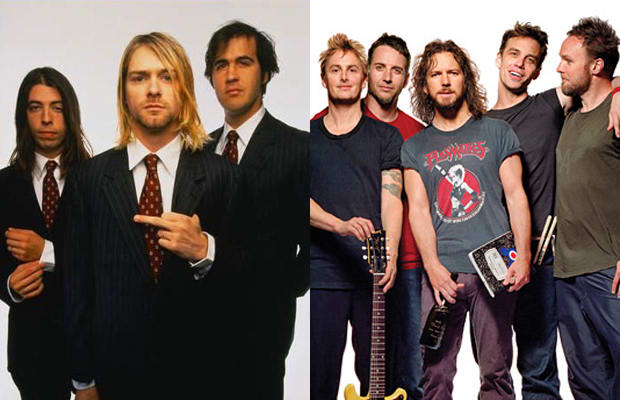 ---
Much like an Australian band from the 1980's, tonight at Quincy's it was "Crowded House"!  Okay, okay, don't dream, it's over… We're moving on.  We had a good turnout at trivia tonight at Quincy's, seeing a good chunk of the regulars duking it out! It's become one of the most competitive venues with the amount of strong teams that show up every week; it's never a sure thing with what team is gonna take down the win each night.  Winning one week is quite an accomplishment here at Quincy's and any team that can hold a win streak here deserves some recognition. Uncle Jack won last week and looked to make it two in a row tonight!
Question of the night tonight showed up at the beginning of Round 4. We had a question about the America's Cup. Turns out that, despite the name, America doesn't win this thing every year? Well yeah, in 1983, Australia won this thing, and most recently Switzerland won in 2007. Guess America wins a lot though, 8 or 9 years running now. That being said, it was a tough one, lots of low wagers and misses here.
Uncle Jack, the only team to go confidently on the America's Cup question, held a lead practically all night and led going into the final. The final was a fun one, seeing about 50% of the teams picking up correct responses on it. Some places among the top 3 mixed up a bit but one thing that did not change was our leader: Uncle Jack takes down another win!  Grats guys!  Here are the final results on the night:
First Place:  Uncle Jack
Second Place: Sofa King Smart
Third Place:  Brio
Next week's first category:  Avenue Q
~ Bill