Tuesday Has Become The Thirsty One!
 So we all know Thursday is suppose to be Thirsty Thursday, but it was Thirsty Tuesday last night as our trivia teams filled bars in Maryland and Virginia. It doesn't matter if you were drowning your sorrows or celebrating your 9er, those beers were being raised and good times were had. Check out the recap below.
A fun night of trivia as 7 teams came out to Whole Foods looking to win, as a majority of the teams were only a few points away from each other throughout the entire game. The final question stumped everyone (Oops you did it again eh?) but the Dark Side were able to clear the gap and take first!
 1st The Dark Side
2nd Mini Van Mafia
3rd Taco Tuesday
First category next week will be programming languages see you there!
Capitol City Brewing in Arlington, Va
Tonight's game was going along quite smoothly for four rounds.  We managed to learn about the difference between a loom and a spindle, and discovered the REAL names of some of our favorite advertising characters.  but everything changed with our final question, it may have been the first time in history a PHT final question involved Britney Spears.  Out of the 12 teams in the house tonight, we had just ONE TEAM come up with the correct response, while other teams gained ground with a defensive strategy that paid off brilliantly.  After the dust settled we had a tie for first and a tie for third!  Here's how the final standings played out:
1st: B-58s (with a zero wager!)
2nd: Fat Tuesday, Stroke Wednesday (the ONLY team to get the final!)
3rd: I Picked the Wrong Week to Quit Sniffing Glue (ridiculously close on the tiebreaker!)
Next week, we'll begin with Presidential Sweethearts (wink!).  See you then!  ~ Matt
Oh Champions, my Champions.. I never know what to expect when I walk in there for a trivia night but I definately didn't expect to be gigging about Pocket Gophers for the entire second half of the game. It's a thing! Well, it used to be a thing until it became extinct. We had some weebles and wobbles tonight but over all the teams kept to their feet and kept a tight game all the way to our final.
That final though… It's Britney B*itch! Quite a few of our teams knew which queen of pop they were looking for but they struggled with which amazing piece of musical art to pick. Only 3 teams were hearing the right tune in their heads, half of you were still stuck on the Risky Business visual from round 2 I think.. It would have been Crystal Methodists in 3rd but since they had too many players on the field it was Quiz in my pants who slid on in to take that spot, and I was happy to see how excited they were. 2nd went to Wiser but Still dead after a strategic wager, but out 1st place team rose from the ranks like a creature of legend, Tokyo Sex Whale! Nice job. Next week we will start with The Wire. ~Samantha
So the snow was a DUD, but the game here tonight at Cugini's sure wasn't. Sorry about the short debate on California taxes and professional sports, we'll have to pick that one back up over a beer. We had some separation in the scores early on, but the teams managed to pull it all in close at the end!
Here are the results:
MoMo in 1st
Lightfoot in 2nd
That's What She Said in 3rd
Our first category for next week will be Korean Cuisine! ~ Ronnie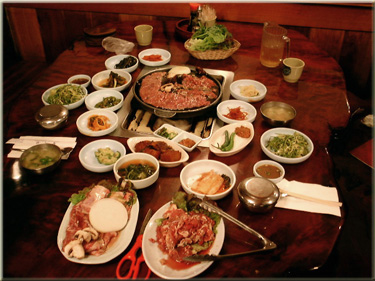 Tonight's game featured some freezing winds with a touch of snow/rain/whatever you wanna call it, as well as a close game with a tiebreaker and a comeback win!  The game started out well enough with a 3-Part 1970's Rock Audio question, which most teams did really well on. We also asked about the Super Bowl MVP from Sunday's game, Texas A&M alum, Mr. Von Miller, who absolutely carried that game.
Tonight's audio question was about Movie Music, and featured Bob Seger singing his song that was featured in 'Risky Business', and had teams try to give me the next word after the stop.  Unfortunately that style of question always ends up with somebody singing along who doesn't stop when the music does, and gives it away! It's always hilarious when that happens.
On the three-clues question, most teams knew what we were looking for based on the Valve computer program that lets people access thousands of video games. However, a few teams did know the name of the music group with the same name. The third clue was quite the giveaway though, saying its the term for vaporized water, AKA steam. We also had a Mardi Gras question which asked about Shrove Tuesday, another name for Mardi Gras that only a few teams knew about.
Halftime had teams name extinct animals based on their pictures, although they did have an answer bank. It also had teams name one word movie titles that all had different numbers of letters in the title.  After halftime we started with a Presidents question that I thought would be really tough, but everybody did pretty well with. We asked for the President based on their middle names, which sounds tough and definitely is if you don't know the ones with famous middle initials.
The Westminster Kennel Club dog show was another one that most teams did well on, which is apparently the second longest running sporting event in US History. Ending the round was a question about films with characters named Joy in 2015, which apparently there were 3 of?? That's such an odd but cool fact. The final round started with a Nobel Prize question, which asked for the only prize that isn't awarded in Stockholm, Sweden (the Nobel Peace Prize) as well as the city where this other award is given (Oslo).
We ran into a bit of confusion when asking about a spindle, which is different from a loom. I later learned that spindles make thread, while a loom weaves that thread into fabric. Mythology is always a fun category, this time asking about the beast Hercules is tasked with kidnapping from the underworld for his final labor. Everybody knew we were talking about Cerberus, even without me mentioning his three heads!
Heading into the final one team had a decent lead on the field, but the final question about #1 Hit Songs proved to be a bit tricky. The question asked about the first song to hit #1 on the Billboard Hot 100 with an ellipsis in its four word title… The answer ended up being the song "…Baby One More Time" which only a handful of teams got.  We ended up needing a tiebreaker for 2nd and 3rd place, which was broken by guessing the official attendance of Super Bowl 50.
Losing the tiebreaker and taking third place, congrats to Fractured But Whole. Second place on the tiebreaker went to Black Steel, who held the lead all the way until the final. Winning tonight's game with a correct answer on the final, congrats to Suck It Trebek! Next week we start with a question about Lamb of God… The band, not the Biblical thing.  I'll see you all then!
Until next time,
-Chad
Tilted Kilt in Frederick, Md

Already in a heated competition for House Champion, our teams threw down at Tilted Kilt this week – and it's only the second week of Season XIII!!
Our teams answered questions on newly-crowned Super Bowl MVP Von Miller, those lovable ne'er-do-wells on the covers of MAD and Cracked, and the second longest-running sporting event in the country (hint: it involves dogs…).
As the game neared the close, our teams were still all within striking distance of first place. Some strategic betting proved moot, as only one team came away with the correct answer on the final, and we wrapped up our game.
Third place: F.U.B.A.R.
Second place: Axis of Ignorance
First place: Poovey Farms
Poovey Farms has selected, "Music Theory" as next week's first category, so study up and good luck!

-Nick
Senor Tequila's in Germantown, Md
The snow and cold seemed to be too much for some teams, as we had a light night tonight at Senor Tequilas. That didn't turn the heat down inside though!
Highlights of the Night:
In "How-Do-You-NOT-Know-This": Frozen was everywhere, and is still everywhere. How do you not know that when we give you literally all the characters except Elsa?! Come on now! We even talked about Hans Christian Andersen! Tsk tsk.
In "Mad-and-Cracked!": I had no idea Cracked had a mascot, let alone one similar to MAD's! And clearly no one else had either, as almost no one could even get MAD's mascot. Tough one!
In "Should-I-Get-You-A- Dictionary": Spelling doesn't count unless I say it does. But when the spelling is consistently…curious we'll say, it does leave one wondering. I have some good English teachers I can recommend for spelling lessons.
In third place tonight, Axl's Doghouse!
In second place tonight, the Unemployed Hand Models Seeking Hand Jobs!
In first place tonight, the John Lithgow Fan Club!
Good game everyone! Next week we're gonna kick things off with Current NHL Superstars! Study up, and we'll see you next time!
Until then,
Ian
 "Once the Tacoma Pocket Gopher hits the table, all bets are off." – Monkey La La Trivia Player
Oh yes! We had a field day with that little guy…
And we also had a stellar trivia night! Thanks for coming in out of the cold everyone and playing. We heated it all up right from jump street with an interesting fact about the movie FROZEN – whooda thunk, a tribute in names to Hans Christian Anderson? The Risky Business blast from the past was fun. I may or may not have slid across the floor in my undies pretending to be Tom Cruise at some point in my life. (Don't judge, the 80s were an interesting cluster of years)! The scores were all over the place and teams were jumping in and out of the Top 3 all the way through Kazoo and Kimchee.
It was that Final Q that brought it all home! Britney FTW! Here are your La La Top 3:
Congrats y'all! Great finish to a great game! Next Tuesday we kick it off with Ender's Game – one of my personal favorite sci-fi novels! Until then, be well 🙂