Some Traveling on Tuesday!
Teams are getting in to the Summer Fling mode, flirting with the top 3 at different venues all over the PHT nation. Did you try something new and exciting tonight? Check out the blog recap here!
A great way to start off the summer season as we had our oldies and some new teams come by to play some trivia! Pi took the prize tonight with some fanfare from the other teams!
1st Pi
2nd Just Three
3rd Mini Van Mafia
First category next week is Disney Princesses! Don't you dare close your eyes people!
The first summer fling game at Zepheira Sports Bar is in the books. It ended up being a tale of two halves for two teams battling for 1st. They both decided to go big or go home on the final wager and this is what happened… In 3rd we had I'm Just Making This Up as I Go Along, 2nd went to Sanford & Son, and coming back in the second half and holding on for the win was The Avengers!! They picked "D.C. Comics" for next weeks winners choice, so come join us
next Tuesday
at Zepheira Sports Bar!!  ~  Jon J
As the summer season begins, I wish I could have seen some our regular Capitol City teams at World Series XIII, but it was not to be this season.  Only seven months until the next big event, so hopefully we'll see our teams make the endless trek for some cash.
On to tonight's game, which featured Menace to Sobriety pulling out the victory, with Make America Red Again taking second and Capitol City Goofballs in third.  next week, we begin with a question on 1990s Rap! ~ Matt
It was our first night of fling here at Champions and teams were throwing commitment right out the damn window tonight! Breaking up with team names, team beers, even team mates! Free agents say what?! I think this summer will be very, very interesting here in our favorite billiards hall…
We had a good game, I stumbled a bit with the new team names but all in due time! We had a bit of a change up in the top 3 towards the end of the night and after the final was tallied it was Jungle Fever in 3rd, Crystal Methodists in 2nd and Comfortably Dum back on top (Hey-O!) for 1st. Next week we start with Bond Movie Theme Songs.
First night of Summer Fling here at Cugini's and we had a full house of trivia players ready to get things going! The game was real close at the end with about half the field with a shot for first. Here are the results of tonight's game:
WWBS in 1st
Level 3 Booksellers in 2nd
MoMo in 3rd
First category for next week is "Foods that Begin with the Letter Q" ~ Ronnie
Tonight
was the inaugural game of our Summer  Season and it was quite a turn out! Most our regulars were back to join us for another season of PHT AND we had a bunch of new teams trying us out! Glad to see the returners but also to see the new faces try out our brand! Always cool when we spread the interest!
Oranges are Not the Only Fruits, formerly Big Ole Balls, decided to show us what they were made of
tonight
, putting a smack down on the competition, leading for almost the entire game. An Art Q in the 3rd round did trip them up (asked about Thomas Gainsborough's "Blue Boy") but they were able to save the 1 wager and make it quite harmless. Only 2 teams picking up points on that one, though many were close; I did have a lot of "The Boy in Blue", but as its not a weird mistranslation or anything (original title in English I believe) so I couldn't take it.
Going into the final, Oranges had the lead still, and would take down a win with a correct response. They in fact did get a correct response so yeah, that's the win for them! Great way to start the season! If We Lose takes 2nd. 3rd was a TIE between Uncle Jack and Heroes in a Half Shell. Heroes would take the prize though by getting closer to the date of Gray's Anatomy! Great game all! Back in a week!
1st Place:     Oranges are Not the Only Fruits
2nd Place:    If We Lose the Terrorists Win
3rd Place:     Heroes in a Half Shell
Next week:     Seinfeld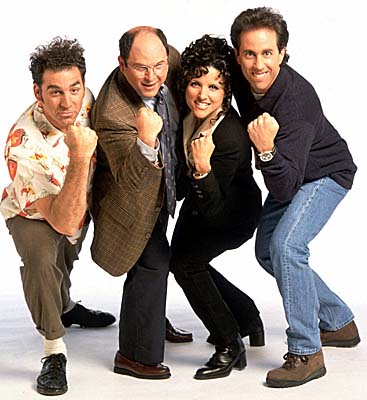 We started off the summer season with an audio question about songs named after celebrities, asking teams to identify songs like Buddy Holly by Weezer, James Dean by The Eagles, and Steve McQueen by Sheryl Crow.  I found the 3 clues, 1 MLB team question amusing, as one of the clues was that the team is the worst in the National League, as well as moving into a new stadium next year. Several teams impressed me by knowing we were talking about the Atlanta Braves.
Tonight's normal audio question asked teams to identify a celebrity, TV show, and song, all with the initials PS. Most teams got Patrick Stewart and Perfect Strangers, but the song Panic Switch by Silversun Pickups was a bit tougher.  We also learned a neat fact about the first ever mention of the game of Russian Roulette, showing up in the 1840 work by Mikhail Lermontov called The Fatalist.
Halftime asked teams to identify authors based on caricatures, as well as providing answers to clues that were also the names of current TV networks.  The second half started with a question about Asian Geography, asking for the only two -Stan countries that don't border China as well as being the last two -Stan countries alphabetically. Most teams got Uzbekistan, but several missed Turkmenistan.
We also discussed the origin of an extremely popular character that was originally created as an advertising mascots for Montgomery Ward, being Rudolph the Red Nosed Reindeer. Turns out Rudolph's creator, a man named Robert L. May, was often teased as a child for his outward appearance.  We also discussed a famous painting by British painter Thomas Gainsborough, called Blue Boy, which I'm impressed a few teams knew.
The hardest question was definitely the Cold War question, which talked about a period of political liberalization in Czechoslovakia that began in 1968 and had a two word name with the name of a season in it. Nobody managed to give me Prague Spring, although several teams were close; and definitely nobody gave me Alexander Dubcek as the politician who was the main driving force for this movement.
Tonight's final question was about College Team Nicknames, and asked for the Big East team whose nickname is derived from a mixed Greek/Latin phrase meaning 'What Rocks', which gained popularity in the late 19th century. A few teams got the answer of Georgetown, whose nickname is The Hoyas (the chant is Hoya Saxa).  We also needed to do a tiebreaker, so after settling that we ended up with Ignorance is Bliss in third place, and Black Steel taking second after leading the whole game. Taking the win however, congrats goes to Fractured But Whole, jumping ahead with a correct final answer. Next week we start with a question about The Big Lebowski, so study up! I'll see you all then!
Until next time,
-Chad
We kicked of Summer Fling all the pomp and circumstance we could muster, before settling in for what is sure to be an exciting summer season.
My regular teams battled back and forth, trading the lead and racking up points on the way to a close finish! In the end, we could only have one winner…
Third Place: Dave's Not Here (Formerly known as FUBAR)
Second Place: Poovey Farms (Formerly known as, well, Poovey Farms)
First Place: Axis of Ignorance (Formerly… ah, you get it.)
Axis of Ignorance misfired, and selected, "Band Name Origins" as next week's category – forgetting that they selected the same category at their usual
Wednesday
venue! A double helping of name origins, coming up!
See you next week!

Senor Tequila's in Germantown, Md
And the Summer Fling of Pour House Trivia kicks off with a close one tonight at Senor Tequilas!
Highlights of the Night:
In "Where-Was-I-When-That-Happened": Budweiser rebranded?? What?? When did that happen?? I feel like that should've been big news, even if the beer is crap. Why did I not know about this??
In "So-Very-Very-Close": When one team manages to have the words right, but in the wrong order and with extras, it's heartbreaking. They could not have been closer, and on a tough art question to boot! So close, and yet so far…
In "Right-Country-Wrong-Revolution": The Velvet Revolution was certainly a Czechoslovakian incident, but unfortunately that took place about 20 years later than the Prague Spring. But you knew a Czech thingy at least!
The final was a tricky one, and a fall from grace for one team tonight.
In third place, Axl's Doghouse!
In second place, Beer Pressure!
In first place, the Fan Club!
Great game everyone! Next week we'll kick things off with a category about Academic Regalia! As in the robes and caps and etc worn during academic ceremonies. Should be interesting, maybe? Study up, and we'll see you then!
Until then,
Ian
La La La La – Bada Bing! The Summer Fling! The jing-a-ling. The questions and the answers – trivia night makes my heart sing! Here's the thing…yeah missing a 9 wager does have a sting but in the end the La La love makes you feel like a queen or a king!
OK….ok…I will work on my battle rap chops! 🙂 No less…the Summer Fling  was ON Tuesday at our favorite Tuesday bar: Monkey La La in Frederick, MD. We had some new crews come on out to test the La La waters as well! Welcome Multiple Scoregasms to the La La-ness!
And what an opening night for Summer Fling we had! Budweiser kicked it off – always a good start to an evening!
And the night flowed like good beer into other fun (and sometimes tough)categories like "Things that Happen on the Playground." I actually recall being small in middle school so red Rover memories are not fond ones for this trivia host. But I dis sport VANS back in the day. And I may actually look into grabbing a pair of these Nintendo ones…
Pretty RAD if ya ask me 🙂
Thanks for playing Tuesday my friends. We've strung a bunch of good weather nights together recently so I appreciate you coming out and spending them with mua 🙂 And congrats to our Summer Fling inaugural TOP Board! Look at these proud faces:
Thanks again y'all! I wish you a great week and weekend and hope to see you next Tuesday night when we kick it off with "Celebrities You Might Think are Dead but are Actually NOT!" That is a PHT First Time category fer sho! Lotsa love yall…see you soon 🙂 DG